Lady Love & Why It Matters
"When I'm with you, I'm standing with an army." – Ellie Goulding
I recently spent a weekend in beautiful Kelowna with 5 of my favourite girl-friends and although I did NOT come back feeling physically refreshed, I did come back feeling mentally and spiritually refreshed in more ways than I could have expected.  I am by no means a stranger to girls trips and we've had our fair share of blow outs over the years on a few of these excursions, but this one was special and by far our best yet.  We connected in ways we hadn't in years and we took the time to dive into each others lives in intimate ways that you just can't do over the phone.  We laughed, we cried, we loved each other & took care of each other but despite a 3 day weekend of minimal sleep (and probably way too much wine), my soul is whole and I've been reminded of what really matters in life.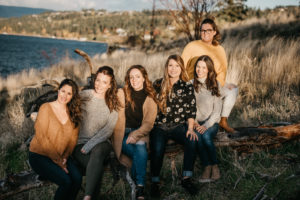 You see, it hasn't always been easy for us.  Here we have 6 distinct and very different personalities all brought together and as much as everyone always has the best intentions, we sometimes fall short of remembering our differences.  We have all grown together through some of life's most challenging and trying times so there have naturally been differences of opinion or interpretation along the way.  One thing we have learned over and over is to forgive each other.  Life is so short and we're all so busy with our own lives that when we get the chance to get together, we know it's more important to be present and accept one another for who we are.  I treasure our differences because collectively, we're an army and we've got each other's backs through thick and thin.
I have been blessed with the most amazing friendships in the world and I am so grateful for the strong women who make up my circle.  I learn new things from them and about them all the time and although we go back decades, we have never expected each other to be the same people we were when we met.  We are growing – together – and building beautiful lives in the process but we have different roles to play and we each bring very unique qualities and attributes to our crew.
We have a powerhouse.
When shit needs to get done, this woman handles it! I've always admired her ability to multi-task, set her eyes on the prize and then get after it! When we need someone to go full boss, make executive decisions, stand tall and have a back bone, this is the woman we look to.  She has always had an amazing ability to make me feel loved, safe and protected because this woman has gone to bat for me on several occasions with the fierceness of a Lion and I would stand next to her on the front lines ANY DAY.  That fierceness is matched only by her ambition and when I've accomplished something huge professionally, she's the first call I make! We were born on the same day and we're basically the same person in so many ways but no one challenges me to be the best version of myself more than she does.  From the second I met her, I knew we could conquer the world.  Admittedly, are not currently the CEO's of Contiki Canada like our 20 year old selves had predicted we would be, but we have beautiful families, successful careers and I couldn't be more proud of where we've ended up. She's my boss babe bestie and no one can light a fire under me like she can!
We have a lover.
She's the heart & soul of our group.  I truly don't think I know anyone in the world who loves like she does and when I'm with her, I feel loved entirely.  She never judges.  She never criticizes.  She never puts anyone down.  Her sole purpose on this Earth is to make people feel special and she does this with such grace and effortlessness that it's a true privilege to watch.  We always make fun of her for being such a 'tit' but she's our 'tit' and I will always be grateful for her friendship.  She makes me feel special and important in ways that I long for when we're not together and when I need that little reminder, she's only a phone call or a FaceTime away.  I wish every woman had a lover like her in your life because she makes me feel like everything will always be okay no matter what the circumstances.
We have a peacekeeper.
We're a pretty rammy crew of ladies and there's no one who puts up with our shit better than her.  She's always so calm, cool and collected and I don't think I've ever seen her get upset about something for more than a minute.  As a mother to three beautiful (but busy!) little boys, she knows how to not sweat the small stuff and she's amazing at diffusing tense situations.  She's ambitious. She's kind.  She's a great listener and she's always there when any of us need her.  She's an absolute breath of fresh air and I love talking to her about our goals and what we want to achieve in life.  She and I are kindred spirits in so many ways that we both purchased the same 'Achieve Your Dreams' necklace without realizing while we were out shopping because girl, we've got our eyes on the prize and we're making our dreams come true!
We have an entertainer.
She's the one in this group that I spend the most time with, but at the end of the day, we can always count on her to keep us laughing and not take ourselves so seriously.  I admire this woman more than she knows and she has been instrumental in helping me build the Elle Bell Sales Co. brand.  With her by my side, I know there are no limits to what we can accomplish and when I think of our future together, excited doesn't even begin to describe it!  She's fiercely loyal, always fun to be around and she asks me some of the most insightful and thoughtful questions all the time.  However, if you've ever been a fly on the wall at one of our gatherings, you'll know the pure comedy GOLD that comes out of this woman's mouth – even when she's not trying to be funny!  I laughed so hard with her on this girls trip that I cried a few times (and maybe peed a little bit because #momlife)  and I will always be grateful for every minute we spend together.  Straight up FACT – she's good for my soul.
We have a warrior.
This woman has overcome some unimaginable trauma over the last couple of years but what I admire most about her is how she has made a conscious choice to move forward with positivity and focus on what really matters most – herself and her daughter.  Life has been extraordinarily hard for her in ways most of us will never experience, but she's still smiling and laughing, setting goals and working hard and focusing on the woman she wants to be.  Proud doesn't even begin to describe my feelings towards her and I will never be able to fully express my level of admiration for her or my gratitude for her friendship. She's someone who has helped me grow, supported me through tough times and never once judged me or my process along the way.  She's an inspiration in the truest definition of the word and I can honestly say that I'm a better person because of so many of the experiences and memories I've shared with her.
We have a me.
I believe so strongly in the potential of all of these women and as we age together, I want nothing more than to see them all create the beautiful, happy, successful lives that they so deserve. I gain so much from all of their individual and unique personalities so I want to give back as much of me as I can.  It's my mission to always remind them that I believe in them, that I'm here for them no matter what the distance and that I will love them no matter what.  Always and forever, I will be cheering these ladies on with every ounce of conviction I have because I know they are special and important in this world. At the end of the day, I know how valuable they are to me and I never want to lose sight of how important we are to each other.  These ladies and these friendships will always be a priority to me.
Click here to see some photos of the brilliant and beautiful women who I'm so lucky to call my friends!
Our differences make us stronger and the growth we've achieved is measurable by where we all stand today.  It's taken work.  It's taken commitment.  It's taken grit and determination but it's always been worth it.  My girls will always be some of the most valued, cherished and nurtured relationships in my life because I know exactly what they're worth and these friendships are priceless.
Never stop loving your ladies and you'll always have an army beside you.
All my love,
Lynsey